The Cape Winelands are a region in the south of South Africa. The fertile soil and Mediterranean climate of the Western Cape, makes the Cape Winelands one of the most renowned wine producing areas in the world.  The Winelands boasts some of the most majestic scenery in South Africa. It is situated to the north-east of Cape Town and offers a beautiful landscape of wine hills and mountains.
There are more than 20 wine-growing regions surrounding Cape Town but the term Cape Winelands generally refers to the three most popular: Franschhoek, Stellenbosch and Paarl, each set in rolling countryside with spectacular Alpine-style views. The Cape Winelands are the most well-known in South Africa and include the Route 62 wine route which is said to be the world's longest wine route.
The Franschhoek Wine Valley is also famous for its food and is acknowledged as the 'gourmet capital of South Africa'.
The Stellenbosch Wine Route, South Africa's oldest, was founded in 1971. JC Le Roux, a world-renowned sparkling wine, is produced here.
Paarl, the third-oldest town in South Africa, is home to the internationally renowned Nederburg Wine Estate, as well as numerous other premier brands.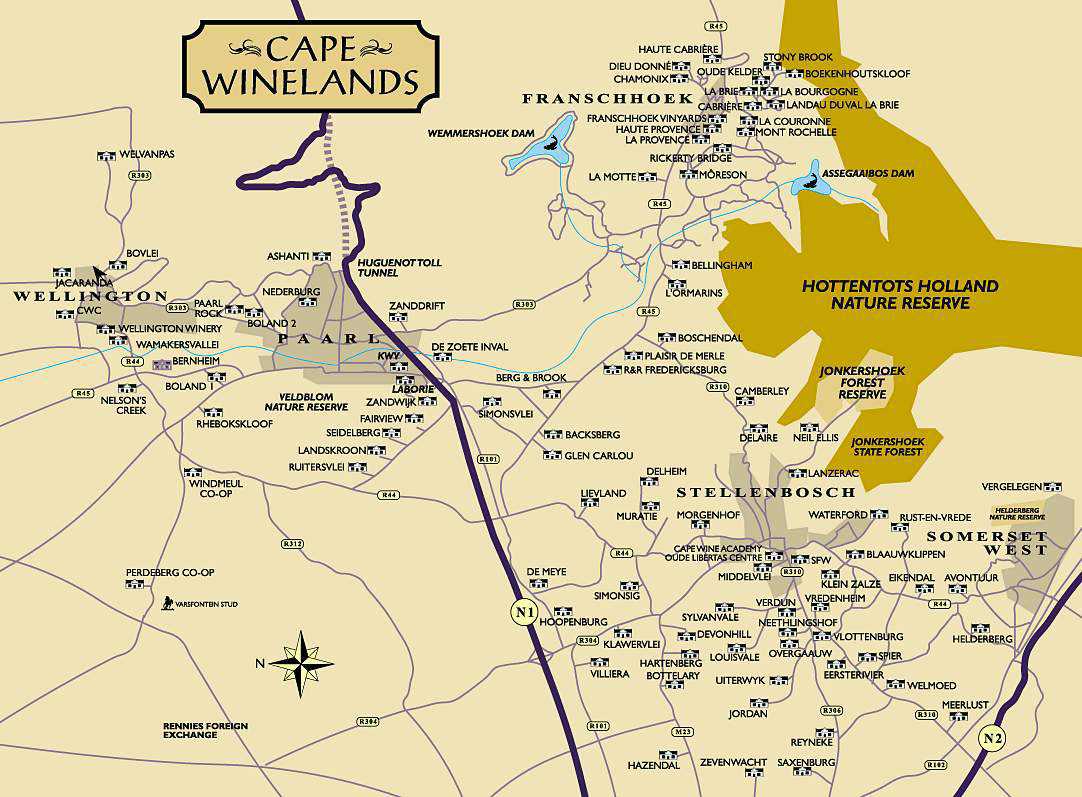 The N2 highway carves and meanders for 800km between Cape Town in the Western Cape province and Port Elizabeth in the Eastern Cape. The Garden Route – the name given to the stretch of forested, coastal area between Mossel Bay and Port Elizabeth – is the bright red cherry on this southern slice of Africa. The Garden Route offers a breathtaking journey from Cape Town past Stellenbosch and the Winelands down to the coast.
The Cape Winelands are easily accessible from Cape Town via car and tour bus. The classic Cape Wineland towns of Stellenbosch, Paarl and Franschhoek are easily accessed by regular half-day and full-day tours conducted in modern mini buses or sedan cars. The main routes through the Winelands are on the N1 and N2 highways.
Not to Miss in the South African Winelands
Taking a guided bike tour between the area's standout estates, then pairing local wines with local cuisine at one of its top-flight restaurants
Exploring the area's untamed beauty at the Paarl Mountain Natural Reserve
Stroll through historic towns like Stellenbosch and Franschhoek along streets of quaint boutiques, eateries and more
The Western Cape is the largest wine producing region in South Africa and produces about 1,000,000,000 litres of wine annually. With the increasing popularity of South African wines worldwide, it's not surprising that the South African wine industry plays an increasingly significant role in the national economy.
It would be apt to say that wine-making and of course wine-tasting are very much a part of the Western Cape culture and experience. A visit to the Cape would simply not be complete without experiencing the tranquil beauty of the wineland areas.